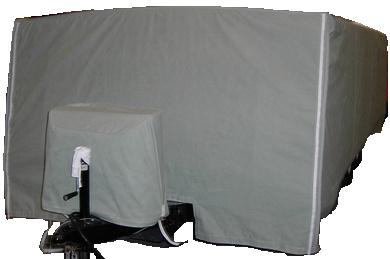 CanvasMart manufactures all of its storage covers inhouse at its Calgary, Canada facility. Our standard covers are made with high-end marine canvas with water repellency and excellent resistance to mildew and UV.

The raw material has been exposure shrunk to ensure continuous proper fit - if you're shopping around for a cover, make sure the "other guys" are using this high-grade material. We pay a little more for the best, but we achieve efficiencies in other areas to ensure you always get the best product and excellent value.

We reinforce the canvas cover with 18oz vinyl around all sharp areas and pressure points on the RV. Other materials are available upon request, and covers can be customized in any way.