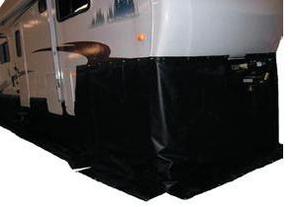 CanvasMart's uninsulated RV skirts are custom fit to your RV. They prevent heat loss, add under-vehicle storage and provide a clean look to your unit. The material extends 12" onto the ground and is grommetted so you can either weight the skirt or stake it down.

Installation is included in our pricing, and we require the RV to be at our shop for one full day (7am - 4pm). Up to two slide outs are included in our pricing as well.

Uninsulated skirts are manufactured using one layer of 18oz vinyl affixed to the RV with awning cord/rail or snaps.

Fifth-wheel skirts are built with a zipper door to under the fifth wheel portion of the RV at no charge.