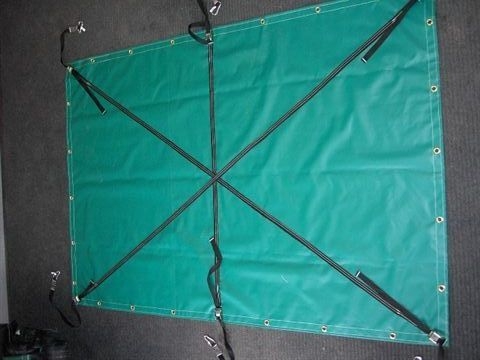 CanvasMart's custom vinyl containment tarps are very easy to use, cost effective and durable. The vinyl offers 100% waterproofing, keeping loads clean and dry. Just measure the inside dimensions of your truck box (length and width) and we'll handle the rest.

We manufacture these tarps like so:
- heavy-duty truck-grade 18oz vinyl
- 2" double-stitched hem
- 1" webbing stitched diagonally onto the tarp from corner to corner and extending 36" beyond the tarp
- included hardware: a cam buckle (self grabbing, thumb press to release) and caribiner in each corner
- grommets around the perimeter for additional versatility and strapping points

In Canada, it is illegal to carry anything in the back of a pick-up truck without it being properly contained. These tarps comply with national securement/containment regulations and are a much better alternative to the minimum $500 fine for an improperly secured load.

* Mesh tarps are available if you prefer a breathable tarp in the back of your truck.