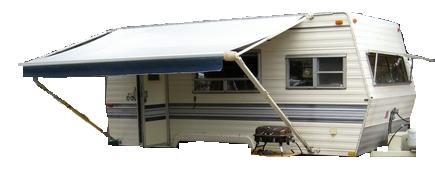 CanvasMart is your team to turn to for replacement awning fabric for your RV - we are typically hundreds of dollars less expensive than replacing an awning system through an RV dealership AND we use higher grade vinyl than OEM awnings so ours not only save you money, they will last longer as well.

A typical grade of fabric used by an OEM would be 12 - 14oz weight, whereas we manufacture our replacement awnings out of 18oz vinyl.

CanvasMart awnings come standard with an 8" valence and awning cord. Please measure the diameter of the awning cord that is stitched into the fabric on your awning that inserts into the drum and the other awning cord that inserts into the channel on the side of your RV. They are typically either 1/4" or 5/16". Standard projection from the RV is 7'7"; however, any dimension can be made.

We can also build an awning using your old fabric as a template. Just send us your old awning free of any hardware (we want the fabric only, not any mechanical components) and we'll make your new awning based on those dimensions. Alternatively, just make your selections above and we will get started!